Data Protection Suite and Data Domain DD2500 Bundle

Data Protection Everywhere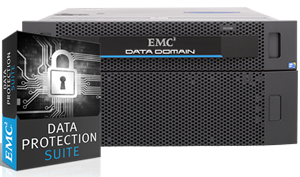 Sorry, this product is no longer available, Please contact us for a replacement.
Overview:
Protect virtual environments, NAS systems, business-critical applications, remote offices and desktops and laptops across your enterprise with EMC Data Protection Suite software and EMC Data Domain DD2500. See why the Data Protection Suite and Data Domain are even better together.
Consolidate backup, archive and disaster recovery on a single platform and reduce storage requirements by 10 to 30x with Data Domain systems. Adding Data Domain Boost software enables client-side deduplication to speed backups by 50%. With the Data Protection Suite, recover backup data in one quick step, since there's no need to restore full and subsequent incremental backups to reach your desired recovery point.
In addition to the DD2500, Data Protection Suite and Data Domain bundles are available for:
Data Domain DD2200
Data Domain DD4200
Data Domain DD4500
Data Domain DD7200
Data Domain DD9500