Dell Direct-Attached Storage

Directly Expand Your Server Storage Capacity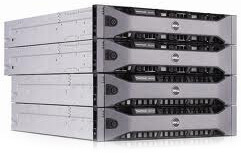 The Dell PowerVault™ MD storage family offers easy and economical expansion for the Dell PowerEdge™ servers and the PowerVault MD Series storage arrays, enabling high availability and scalability for demanding business applications.
The PowerVault MD family can use the same disk drives as the PowerEdge servers so you only need to stock a single type of spare drive, fan or power supply. PowerVault storage arrays are designed and engineered to pair perfectly with PowerEdge servers so you get a complete solution that enhances usability and can make support and service easier.
While managing rampant data growth can be challenging, the versatile Dell PowerVault™ MD Family offers solutions. Optimized for smaller-scale storage consolidation and virtualization, PowerVault MD products include a series of high-performance SAN and direct-attached storage arrays, high-capacity expansion enclosures and robust management software that deliver exceptional flexibility, scalability and value.
MD3200 modular, high-performance and high-capacity arrays are ideal for consolidation and virtualization deployments. MD1200 Series direct-attached expansion enclosures can connect to MD3200 Series arrays and Dell PowerEdge™ servers to provide additional capacity for high performance and data-intensive applications. The MD1000 expansion enclosure is optimized to support high-capacity applications and easy expansion for pay-as-you-grow flexibility. Designed to pair perfectly with PowerEdge servers, the MD family uses the same components; as a result, you only need to stock a single type of spare drive, fan or power supply, enhancing support and service.
Key Benefits
Ability to connect up to four high-availability servers (or eight non-redundant servers) for balanced performance in mixed virtualized workloads
Simple management with advanced MD Storage Manager software, an intuitive, easy-to-use, client-based Java® application
Wizard-based array management helps simplify the configuration process, detect and alert you to problems, and launch an automatic Recovery Guru to help in troubleshooting and resolution
Drivers can be mixed and matched to create a tiered data environment
Optional data protection features include point-in-time snapshots, virtual disk copy (VDC) and self-encrypting drives (SEDs)
Direct-Attached Storage Models

Low-cost, high-capacity expansion enclosure that improves density and performance to enhance support for mainstream and capacity-intensive applications.

Twelve 2.5" SAS and SSD drives in a 2U enclosure
Seamless server expansion for 6Gb/s SAS environments
Supports performance-intensive applications such as Web server, database and e-mail
2.5-inch small-form-factor (SFF) array, energy-efficient array

Energy-efficient small form factor (SFF), 2.5" drive expansion enclosure that provides the performance to satisfy demanding single-server applications.

Twenty-four 2.5" SAS and SSD drives in a 2U enclosure
Seamless server expansion for 6Gb/s SAS environments
Supports performance-intensive applications such as Web server, database and e-mail
2.5-inch small-form-factor (SFF) array, energy-efficient array

A dedicated, high-availability shared-storage array designed to offer superior performance and capacity. MD3200 arrays hold up to twelve 3.5" drives.

Twelve 3.5" SAS, NL-SAS and SSD drives in a 2U enclosure
Mix and match drives to create a tiered-storage environment.
Supporting a base configuration of 120 hard drives, with an optional upgraded up to 192 hard drives.
Available in single or dual-controller models

A dedicated, high-availability shared-storage array designed to offer superior performance and capacity. MD3220 arrays hold up to twenty-four 2.5" drives.

Twenty-four 2.5" SAS, NL-SAS and SSD drives in a 2U enclosure
Mix and match drives to create a tiered-storage environment.
Supporting a base configuration of 120 hard drives, with an optional upgraded up to 192 hard drives.
Available in single or dual-controller models