IsilonSD Edge

Unstructured data storage made simple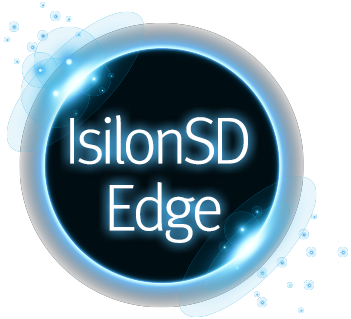 Sorry, this product is no longer available, Please contact us for a replacement.
Overview:
It's Not Just Data, It's Your Business
EMC® Isilon® scale-out storage solutions are designed for enterprises that want to manage their data, not their storage. Our storage systems are powerful yet simple to install, manage, and scale to virtually any size. And, unlike traditional enterprise storage, Isilon solutions stay simple no matter how much storage capacity is added, how much performance is required, or how business needs change in the future. We're challenging enterprises to think differently about their storage, because when they do, they'll recognize there's a better, simpler way—with Isilon.
Expand It...Simply
With EMC Isilon scale-out network-attached storage (NAS), you can have massive room for growth—with up to 50 petabytes (PB) of capacity per cluster. Go ahead. Take on more projects, perform more in-depth research, and serve up more data. You can scale both capacity and performance in about a minute to meet your specific business needs—all without any additional IT burden.
Accelerate It...Simply
EMC Isilon storage provides you with the tools to dramatically increase workflow productivity and maximize the value of your enterprise applications and Big Data assets—allowing you to accelerate your business through faster time to money and new revenue opportunities.
Protect It...Simply
You don't entrust your most valuable assets to just anyone. EMC Isilon storage solutions provide the highest levels of reliability, availability, and serviceability in the industry. For fast and efficient data backup and recovery, you can schedule snapshots as frequently as needed to meet your specific recovery-point objectives. For reliable disaster recovery protection, our storage solutions provide extremely fast data replication, along with push-button failover and failback simplicity, to further increase the availability of your data for mission-critical applications.
Secure It...Simply
Meeting compliance and governance requirements is essential for most organizations today. To address these needs, Isilon provides robust security options, including file system auditing and Data at Rest Encryption (DARE) with self-encrypting drives (SEDs). We offer write once, read many (WORM) data protection to prevent accidental or malicious alteration or deletion and help you meet regulatory requirements— including the stringent SEC 17a-4 rule. With Isilon, you can also leverage role-based access control (RBAC) options and, if needed, create isolated storage pools for specific departments within your organization. Isilon also offers Security and Technical Implementation Guide (STIG) hardening, CAC/PIV Smartcard authentication, and FIPS OpenSSL support for Federal government agencies and financial services businesses.
Take the power and efficiency of Isilon scale-out NAS to new places with EMC IsilonSD Edge. IsilonSD Edge is software-defined storage for small businesses and remote offices of enterprise companies, including financial services, media & entertainment, healthcare information technology, and life sciences. IsilonSD Edge addresses the needs of locations that have growing storage requirements but limited IT resources.
IsilonSD Edge runs on your industry-standard server hardware (not included) while delivering the advantages of the EMC Isilon OneFS operating system.
Use IsilonSD Edge to extend your existing Isilon environment to edge sites or deploy IsilonSD Edge software-defined storage on its own. Consolidate and manage your unstructured data to support a wide range of applications. IsilonSD Edge simplifies data and storage virtualization management for remote and branch offices. You can also deploy it quickly to set up a virtualized test and development environment without drawing upon other data center resources.
Essentials
Simple storage management designed for ease of use
Massive scalability of capacity and performance
Unmatched efficiency to reduce costs
Automated tiered storage to optimize resources
Multiprotocol support to maximize operational flexibility
Resilient data protection for a highly available environment
Robust security and compliance options