Dell PowerVault MD3620f Fibre Channel Storage Array

Making high-performance Fibre Channel-based storage easy to use

Sorry, this product is no longer available, Please contact usfor a replacement.
Overview: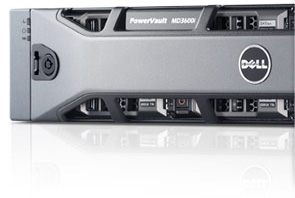 The Dell PowerVault MD3620f array is the introduction of 8Gb/s Fibre Channel in the MD series of arrays. The SAN solution is ideal for entry-level storage consolidation that require high availability, high performance and business continuity without sacrificing ease of use and reliability. Designed for flexibility, the MD3620f arrays support a range of drive types, enclosures, and RAID levels all within a single array.
Meet escalating performance demands for Fibre Channel storage consolidations that require high availability and high performance without sacrificing ease of use. The PowerVault™ MD3620f series features include 8 Gbps throughput, up to 64 Hosts, 2GB cache per controller, single or dual controllers, and capacity expansions up to 192 drives.
Enhance throughput with four 8 Gbps ports per controller for your data intensive applications all the while providing business continuity.
Implement tiered-storage solutions by mixing serial attached SCSI (SAS), near-line SAS and solid-state drives (SSDs) to optimize your storage area network (SAN) to cost effectively meet all application requirements.
Scale up as you grow, supporting a base of 120 hard drives, with an optional upgrade up to 192 hard drives.
Forge ahead with PowerVault MD3620f
Help improve or protect your data center scalability, storage utilization efficiency, infrastructure cost and deployment versatility. With high-speed Fibre Channel, the MD3620f provides multigenerational/multiprotocol single management interface and support.
Put more storage resources to work for you with reliability on top of mind.
Store, move and use your data faster, easily and more efficiently with PowerVault MD3620f arrays.
Twenty-four 2.5" drives in a 2U enclosure
Scales up to 192 hard drives storage capacity with PowerVault MD1200 and/or MD1220 enclosures, enabling a customizable and expandable tiered-data environment with mixed drive types
Available in single- or dual-controller models
With task-based tools and automated wizard in the resource DVD, setup and management is easier and faster for storage consolidation and flexible, shared networked storage.
The PowerVault VMware vCenter™ Plug-In 5.0 support provides VMware administrators with powerful capabilities designed to increase their productivity and simplify their jobs.
The Plug-In is designed to monitor and manage the MD arrays used in conjunction with VMware virtualization software, allowing administrators to monitor and provision the storage subsystems they employ — with the ultimate goal of ensuring the performance and availability of the virtual infrastructure they are managing.
MD storage systems are certified for use in virtualized application environments with VMware ESX, Citrix XenServer™ and Microsoft Hyper-V™ software. Please see hardware support matrix for more details.
In addition, the MD series storage arrays support vSphere™ Storage APIs for Storage Awareness (VASA). This enables unprecedented coordination between vSphere/vCenter and storage arrays. It provides built-in storage insight in vCenter to support intelligent VM storage provisioning, bolster storage troubleshooting and enable new DRS-related use cases for storage.
MD series Fibre Channel arrays also offer a Storage Recover Adapter (SRA). A SRA allows VMware vCenter Site Recovery Manager™ (SRM) to integrate with third-party storage array technology providing additional business continuity.
Keep step with the future.
Performance improvements over previous-generation MD arrays include:
Upgrade cache from 512MB to 2GB battery-backed cache per controller
Replacing SATA drives with near-line serial attached SCSI (NL-SAS) drives for higher capacity and increased performance
Adding SSD support to meet the demanding performance and reliability needs of data centers and other high-performance computing environments
Offering improved scalability with support for supplementary expansion with PowerVault MD1200 and MD1220 enclosures — up to 192 drives total
Four times the base capacity over the previous generation
Six times the capacity over the previous generation
In addition, the high-performance tier option provides an incremental boost to performance, ideal for sequential applications, such as Web streaming or data backup.
Gain a new level of management efficiency.
Use the intuitive multigenerational/multiprotocol system management, physical views and dynamic setup capabilities to help quick start your storage upgrade. With expertise and ease-of-use features built into the software, out-of-the-box installation can take less than 30 minutes.
The MD Storage Manager is ideally suited for the full-time storage administrators, who want complete control over their storage configuration, as well as the part-time systems administrators, who need an intuitive interface that helps them ensure optimal storage utilization.
The Enterprise Window provides a consolidated monitoring view of multiple arrays, including not only the MD36x0f series, but also the MD3200i/MD3200 series as well as the earlier generation MD3000i and MD3000 arrays.
Various logical and physical views of the arrays provide an at-a-glance storage array settings and status.
The Modular Disk Storage Manager (MDSM) monitors system health. If a problem is detected, it alerts the users and automatically triggers the Recovery Guru to assist with diagnostics and troubleshooting.
Drive down the cost of storage management.
Deploying PowerVault MD3620f arrays can help reduce your power budget and trim your storage resources, enabling you to cut operating costs and more efficiently scale your data center.
Tested, validated and warranted to operate within the highest current temperature and humidity guidelines issued by ASHRAE (American Society of Heating, Refrigerating and Air-Conditioning Engineers), the MD Family of arrays is capable of short-term, excursion-based operation in temperatures up to 113º F (45º C). By leveraging the thermal and reliability advantages engineered into this portfolio of equipment, customers are able to run data centers even warmer, helping reduce additional maintenance and infrastructure costs while enabling lower overall energy consumption.
Maximize your rack space
MD3600f/MD3620f arrays, in a 2U enclosure, are up to 20 percent denser than previous models, with 6 drives per U as opposed to 5 per U in MD3000 and MD3000i arrays.
Save energy costs
The MD3600f/MD3620f redundant power supplies have received 80 PLUS for delivering energy efficiency of up to 80 percent, which means that as little as 20 percent of electrical energy is wasted as heat.
Increase density, lower power use
2.5" drives available in both the MD3600f and MD3620f use up to 70 percent less space and consumer 50 percent less power than 3.5" mechanical drives.
Go one step further.
Choose optional premium features for added peace of mind. With additional levels of data protection and availability, you can help reduce data loss and corruption as well as system downtime in case of a storage failure.
Snapshots
Point-in-time copies of data provide easy recovery for files accidentally altered or deleted.
Virtual disk copy (VDC)
Full, replicated copy of source data enables quick and seamless virtual disk relocation and disk-based backup and recovery.
Additional Hard Drive Premium Feature Key
Ability to add up to 192 hard drives providing additional capacity to the MD Series of arrays.
Self-encrypting drives (SEDs)
Drive-level encryption renders data useless to unauthorized users, even if the drive has been removed from the enclosure.
Instant Secure Erase
Permanently and securely removes data when SEDs are repurposed or decommissioned.
High-Performance Tier (HPT)
Meet the most demanding performance requirements for your organization to remain productive and competitive.
Remote Replication
To protect data and processes from major regional disasters like earthquakes, fires or large-scale power outages, your organization needs remote replication of data to a secondary site.
Pricing Notes:
Pricing and product availability subject to change without notice.