Dell Network Attached Storage

File-Level Storage Over Your Network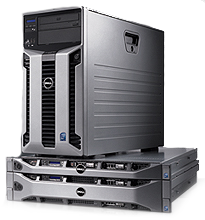 Network attached storage (NAS) is a specialized storage server with its own IP address that is made available to multiple clients and servers on a local area network (LAN) or wide area network (WAN). Preinstalled network communication protocols are enabled so that clients and servers in heterogeneous environments with different operating systems may read and write data on the NAS server. Organizations may add disk storage arrays, tape drives or tape automation to a file/print NAS server, helping to simplify management and backup operations, improve utilization of storage resources and serve as a centralized platform for cost-effective scaling. A NAS gateway connects to disk storage arrays or tape automation systems in a storage area network (SAN).
Dell PowerVault™ NX Series network-attached storage (NAS) solutions support a wide variety of requirements. NX Series products feature Windows® Storage Server 2008, a time-proven enterprise-class operating system which simplifies setup, integration and maintenance of your NAS system and requires no additional Client Access Licenses (CALs). All NX devices protect your data with RAID on enterprise-class hard drives with high 24/7 duty cycles. Remote system monitoring and management is enabled through iDRAC Express and Remote Desktop Protocol.
A range of solutions ensures that you can select the right one for your environment. The entry-level NX200 offers 8 TB raw capacity and both CFS and FTP support, while the modular NX300 comes in 4 TB rack-mountable units and adds NFS support. For growing organizations, the NX3000 includes redundant hot pluggable drives, power and cooling, Single Instance Store capabilities, and expandability with external DAS or as a NAS gateway to iSCSI devices. The NX3000 has 24TB of internal capacity and is expandable externally up to 348TB. Finally, the NX3100 is a super-dense network attached storage that adds block storage support.
Key Benefits
Simple to set up and administer
No need to buy additional Client Access Licenses (CALs) for Windows Storage Server 2008
NX3000 and NX3100 come with Single Instance Store (SIS) which monitors your array and eliminates duplicate storage
Remote management to access your file system wherever you are (iDRAC and Java Remote Desktop Protocol (RDP))
Network-Attached Storage Models

PowerVault NX200 tower features four hot-swappable SATA hard drives with up to 8TB of total NAS capacity, an Intel CPU and 2GB memory for sustained high performance with low power consumption.

Four 3.5" SATA drives
High-speed Intel processor, 2 GB of system memory and dual Gigabit network ports.
Power Cord, NEMA 5-15P to C13, wall plug, 10 feet
Windows Storage Server 2008 x64 Basic Edition

Smaller businesses or remote offices that want dedicated file sharing, consolidation and collaboration across a network.

Four 3.5" SATA, SAS and NL-SAS drives
Supports up to 12TB in a compact 1U chassis.
Select from several SATA/NLSAS drive offerings to satisfy your capacity needs
Arrives integrated with everything you need to start file sharing, including an automated initial setup and configuration wizard to save you valuable time.




NX400 array is designed to improve performance with the latest version of Microsoft® Windows® Storage Server.

Single-socket, 1U rack mount NAS server
Intel® Xeon® processor E5-2400 product family
Up to 16GB2 memory
Up to four hot-swap 3.5" NL-SAS or SAS drives for data and OS (OS partition is 120GB2)
Up to 16TB2 raw capacity

Customers with data growth needing high-performance file sharing with flexibility to handle block data.

Six 3.5" SATA, SAS and NL-SAS drives
Advanced software for more efficient data sharing
No time wasted to set up or manage
Integration that adapts to your environment
Integrated or gateway deployment
Easy to deploy high availability solution

2U Rack-mount chassis, 36TB internal maximum capacity, SIS, FSRM, FCI, DFS and DFS-R data protection features

Twelve 3.5" SAS and NL-SAS drives
Supports up to 24TB in a compact 2U chassis
Expands up to 384TB total external capacity with Dell PowerVault, EqualLogic™ and EMC™ arrays
The automated initial setup and configuration wizard lets you easily set and forget

NX3200 is a capacity-dense, dedicated NAS solution integrated with advanced file-sharing software designed to help smaller offices stay efficient and productive.

Dual-socket, 2U rack mount NAS server
Intel® Xeon® processor E5-2600 product family
Up to 32GB2 memory
SATA, NL-SAS or SAS drive options
Up to 12 hot-swap 3.5" drives for data; two 2.5" drives for OS
Up to 48TB2 raw capacity

NX3300 HA provides a cluster-ready NAS that offers efficient deployment and integration with high availability to simplify data management.

Dual-socket, 1U rack mount NAS server and gateway
Intel® Xeon® processor E5-2600 product family
Up to 32GB2 memory
Two or four hot-swap 2.5" NL-SAS or SAS drives for OS

Bring unified storage to PowerVault iSCSI deployments. The NX3500 uses Dell Fluid File System and the MD back end to store block and file data, enabling a single file share to scale up to the limit of the MD deployment, currently 389TB of usable capacity.

Consolidate block and file data with high-availability unified storage
Easily add or modify iSCSI-, NFS- and CIFS-based storage as needs grow
Built-in data protection features like snapshots and replication help provide security and data integrity
Tested and certified to be compatible with VMware ESX release 5.0, 4.1 and 4.0

Organizations with midsize and smaller deployments seeking a scale-out unified storage system with high-performance multiprotocol (iSCSI, CIFS and NFS) access to block and file data.

Unified IP storage solution (iSCSI, CIFS, NFS) with scale-out NAS performance
Single file share scalability up to the full capacity of the EqualLogic deployment, currently validated to 509TB
Integrated with Group Manager, easy-to-use EqualLogic management software
User accessible snapshots
NDMP Back-Up
Inclusive software delivery model
Single namespace with load balanced IO
Write cache is mirrored and battery backed