Dell PowerVault RD1000 Removable Disk Storage

Tough and portable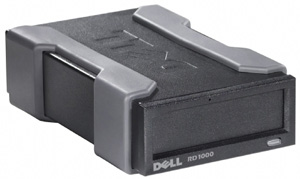 External Dock

Internal Dock
Overview:
The Dell™ PowerVault™ removable disk storage combines the speed of a hard disk with the portability of optical media for quick, easy and affordable backups.
Low-cost alternative to entry-level tape backup
8X faster backups compared to DAT 72
Shock-proof cartridges provide added reliability
Drag and drop functionality make backup and restore easy 
Software included for easily scheduled backups

RD1000 rackable solution
114X RD1000 — Rackable solution, configurable with up to two RD1000 drive bases and upgradeable up to four drives using drive upgrade kit, USB 3.0. The USB cables come in two different lengths of 2 m and 3 m. Includes backup software for easily scheduled backups.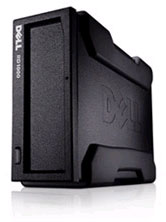 Removable Disk Drive Versus Other Storage
The benefits of using a high-capacity, removable disk drive and accompanying cartridge like Dell PowerVault RD1000 are evident when compared to alternative backup media. Rugged, removable disk media offers increased portability and durability over standard USB-based hard drive storage. The PowerVault RD1000 cartridges are built to withstand a fall from nearly one meter so they are very durable, and the removable disk cartridges are small and lightweight and can be stored off-site for better disaster recovery protection. PowerVault RD1000 provides easy expandability — when you reach capacity with one removable disk cartridge, just insert in a new one. There's no need to buy additional hardware. PowerVault RD1000 includes backup software that provides data protection for faster data restores and reduced downtime.
PowerVault RD1000 features a protective disk drive cartridge that is available in 320GB, 500GB, 750GB, 1TB, and 1.5TB capacities. The RD removable disk cartridges are all interchangeable and preformatted. Archiving a collection of PowerVault RD1000 disk cartridges takes considerably less room than a similar amount of DVDs or CDs — it would take over 200 standard DVDs to hold the volume of a single 1TB removable disk cartridge — all while saving shelf space.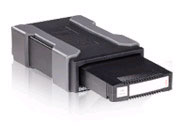 Hard Drive Speed and Reliability
The PowerVault™ RD1000 removable disk cartridge contains a Serial ATA (SATA) II hard drive, the same technology that Dell uses across the PowerVault disk storage line, PowerEdge™ server line and Dell Precision™ workstations external drive. SATA II hard drive technology is a reliable industry standard for storage and an ideal long-term and durable media. Files transfer to PowerVault RD1000 at about the same time it would take to save to your regular PC drive, up to 80MB/sec.
Cartridge Drop Test:
RD1000 cartridges have been qualified to withstand a drop of one meter to a tile over concrete floor. In most cases the RD1000 cartridges can withstand drops of up to 1.5 meters.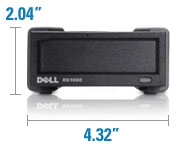 Tough and Compact Form
The PowerVault RD1000 functions lying flat or on its edge. Its compact profile takes up very little space on a desk or close to your server, allowing a backup solution that doesn't require rethinking your office arrangement. The removable disk cartridge is designed for durability and easily fits into a briefcase, backpack or even a coat pocket. The PowerVault RD1000's simple plug-and-play USB connection allows you to back up more than one system, or move it from home to office as you need. Each removable disk drive cartridge weighs about as much as a cell phone and is only slightly larger.
Pricing Notes:
Pricing and product availability subject to change without notice.