Dell Compellent SC200 and SC220 Enclosures

Mix drive speeds and capacities within each enclosure

Sorry, this product is no longer available, Please contact usfor a replacement.
Overview: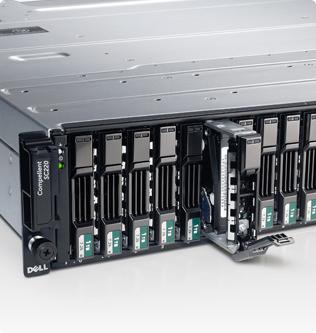 Effective, reliable Dell Compellent expansion
Seamlessly scale your Dell Compellent Storage Center capacity with the latest generation SC200 and SC220 expansion enclosures. Based on Dell hardware, they have the quality, reliability and efficiency you expect from Dell storage enclosures and drives. For additional space savings in high capacity environments, we now offer the SC280 dense enclosure.
Choose 3.5" (SC200) and 2.5" (SC220) HDD options in a 2U chassis with SSD support.
Select a high-performance, flash-optimized solution with the SC220 and up to 24 write-intensive single-level cell (SLC) SSDs or a combination of write-intensive SLC SSDs, read-intensive, multi-level cell (MLC) SSDs and rotating disk.
Mix drive speeds and capacities within each enclosure.
Support up to 960 SAS back-end drives per array.
High-speed 6Gbps SAS interface
Help lower power requirements with 80 plus® Silver certified redundant, hot-swappable 700W power supplies.
Protect your data during cooling-system failures with the Fresh Air technology1 within the SC200 and SC220 enclosures.
Help reduce operating expenses with a chiller-less data center environment.
Compatible with Dell Compellent SC8000 and Series 40 controllers and require Storage Center 6.2 or greater.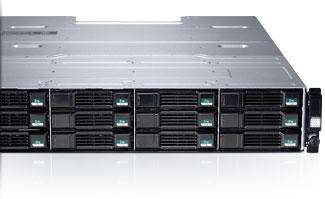 SC200 enclosure
A 2U, 6Gb SAS expansion enclosure supporting up to 12x 3.5" drives for flexible capacity that can mix high speed with high capacity drives.
Supports 7,200 rpm and 15,000 rpm HDDs plus 200GB2 and 400GB2 SSDs.
Provides up to 48TB2 maximum capacity per expansion enclosure.
Features dual 6Gb SAS enclosure management modules.
SC220 enclosure
A 2U, 6Gb SAS enclosure that supports up to 24x 2.5" HDDs or an all-flash and hybrid-flash options to enable a broad mix of storage options in one chassis.
Supports 7,200, 10,000 rpm and 15,000 rpm HDDs plus 200GB2, 400GB2, and 1.6TB2 SSDs.
Flash-optimized SC220 with Storage Center 6.4 firmware can tier across write-intensive SLC SSDs and lower-cost, high-capacity, read-intensive, MLC SSDs in a single solution.
Provides up to 38.4TB2 maximum capacity per expansion enclosure.
Features dual 6Gb SAS enclosure management modules.
Global services and support

Dell Services can help reduce IT complexity, lower costs and eliminate inefficiencies by making IT and business solutions work harder for you. The Dell Services team delivers distinctive capabilities, including Copilot support and optimization as well as full data migration solutions to facilitate consolidation from multiple file systems. Dell takes a holistic view of your needs and designs solutions for your environment and business objectives, and uses established delivery methods, local talent and in-depth domain knowledge to help lower your total cost of ownership.
Pricing Notes:
Pricing and product availability subject to change without notice.