Dell Compellent SC8000 Storage Center Controller

File-level, user-restorable snapshots

Sorry, this product is no longer available, Please contact usfor a replacement.
Overview:
Enterprise storage for virtualized data centers and the cloud
Enhance your storage efficiency, performance and scalability with the Dell™ Compellent™ SC8000 Storage Center Controller that can help lower the total cost of ownership. A Storage Center SAN built with an SC8000 controller is an all-in-one storage array that allows organizations to actively manage data at a highly granular level using built-in intelligence and automation with Storage Center array software. This ultra-efficient, easy-to-manage storage solution optimizes drive utilization, dynamically.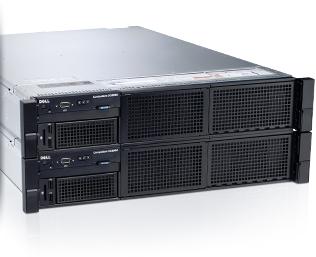 Heightened flexibility
Help extend the life of your storage investments with Compellent Storage Center solutions. Flexible, non-disruptive storage options including flash-optimized solutions that offer flash at the price of disk1, enable your data center to grow seamlessly without forklift upgrades.
Simultaneous iSCSI, Fibre Channel (FC) and Fibre Channel over Ethernet (FCoE) front-end interconnects
Controls SAS and FC drive enclosures, including those with write-intensive SLC and read-intensive MLC SSDs
Scales up to 960 SAS drives in multiple enclosures per dual-controller system and scales-out to many systems across numerous sites, monitored by a single console
Seamlessly integrates with the FS8600 NAS appliance for fully interoperable block and file storage solutions
Enhanced performance and density
Experience the combined benefits of Dell Compellent architecture and a resilient Dell hardware design that offers improved performance and increased memory over previous generation Dell Compellent controllers.
2U rack chassis with dual six-core, 2.5GHz (with Turbo) Intel® Xeon® E5-2640 CPUs
16GB2 to 64GB2 total available cache per controller, with a maximum 128GB2 per dual controller system (a dual controller configuration is required to support full high-availability and failover capabilities in production environments)
Six PCIe Gen3-enabled expansion slots to extend I/O capabilities for future growth
Integrated Dell Remote Access Controller (iDRAC7 Enterprise) to add hardware and environmental monitoring capabilities to the Storage Center solution
Storage Center Operating System 64-bit support for improved scalability and performance
Intuitive software
Go beyond basic storage and optimize your data with the active, intelligent management capabilities of Storage Center firmware and the Dell Compellent integrated software feature set. Built-in automation, enhanced support for enterprise-class workloads and optimized design for flash-based environments helps improve the provisioning, placement and protection of data throughout its lifecycle.
Straightforward software upgrades and perpetual software licensing enable consistent, seamless growth.
Allows the Dell Compellent Storage Center to reach performance levels over 300,000 IOPS3.
Achieve greater than 100,000 IOPS with sub-millisecond latency when running OLTP workloads4.
Dynamic Capacity allows thin provisioning of any size virtual volume without consuming physical capacity until data is written to disk.
Data Instant Replay ensures that once an initial snapshot of a volume is taken, only incremental changes in data need to be captured.
Data Progression writes active blocks of data to Tier 1 storage while automatically migrating inactive blocks of data to lower-tier storage with high protection.
Fast Track places data on the appropriate tracks within individual hard drives in the drive enclosures.
Enterprise Manager simplifies network storage management by providing a single, centralized console for administering multiple local and remote Storage Center SANs.
Remote Instant Replay provides continuous data protection by replicating only incremental changes in data following initial site synchronization. This method of Thin Replication helps keep hardware expenses in check.
Live Volume allows moving and sharing storage volumes between two separate systems without disruption.
Global services and support
Dell Services can help reduce IT complexity, lower costs and eliminate inefficiencies by making IT and business solutions work harder for you. The Dell Services team delivers distinctive capabilities, including Copilot support and optimization as well as full data migration solutions to facilitate consolidation from multiple file systems. Dell takes a holistic view of your needs and designs solutions for your environment and business objectives while using established delivery methods, local talent and in-depth domain knowledge to help lower your total cost of ownership.
Pricing Notes:
Pricing and product availability subject to change without notice.