VCE Vxblock System 350

power data centers and simplify management and operations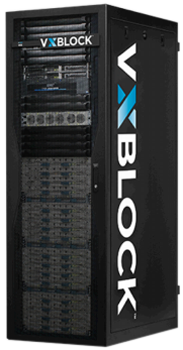 Sorry, this product is no longer available, Please contact us for a replacement.
Overview:
The modern data center comes to the midmarket with VCE VxBlock System 350 converged infrastructure. VxBlock System 350 integrates compute, network, storage, virtualization, and management in a converged solution built and supported by VCE. So you can quickly deploy or expand your virtualized data center or cloud environment. And scale easily as your business grows.
You get a converged system optimized for flash performance. VCE VxBlock System 350 is based on Cisco Unified Computing System (UCS) blade servers and the EMC Unity storage array, which is engineered for flash, rich data services, and simplicity.
Vblock® And Vxblock™
Compared to traditional data center methodologies of "do-it-yourself" or reference architecture, Converged Infrastructure eliminates the slow, complex, and costly process of procuring and assembling infrastructure in-house. VCE Vblock Systems and VxBlock Systems deliver solutions for a broad range of use cases, significantly reducing costs and time-to-deployment and enabling your IT staff to spend more time on new initiatives and growth.
Unsurpassed Simplicity – Vblock Systems and VxBlock Systems bring together best-in-class components in compute, network, and storage from technology leaders like Cisco, EMC, VMware, and more. All system elements are pre-integrated, preconfigured, then tested and validated before shipping. Seamless integration allows you to operate and manage your system as a single product, rather than as individual, siloed components. The end result is significant time and resource savings over traditional, multi-vendor integrated systems or reference architectures.
Flash Optimized – VCE enables customers to create a modern data center with multiple options to deploy all flash converged systems. Powered by flash from leading EMC storage platforms, Vblock Systems and VxBlock Systems are ideal for mixed workload consolidation and applications that require extreme performance and scale.
Streamlined Deployment – With multi-vendor solutions and reference architectures, considerable time and resources are devoted to sourcing, integrating, testing, and validating. VCE Vblock Systems and VxBlock Systems can be delivered within 45 days of order—for the fastest time to value.
System Sustainability – Rely on the VCE Release Certification Matrix (RCM) to streamline software release planning and configuration management across VCE converged infrastructure platforms. VCE Quality Assurance tests for interoperability of hardware and software to ensure that your system and data center dramatically reduce downtime due to updates and scheduled maintenance. This unique VCE Experience spans across all Vblock Systems and VxBlock Systems for an unmatched customer experience.
Converged Infrastructure Management - VCE Vision™ Intelligent Operations is Health and Life Cycle Management software for VCE systems. Its intelligence, automation, and visualization facilitate standardized, repeatable IT processes—making it easier to keep your data center/hybrid-cloud environment healthy, stable, optimized, and secure. The software manages compute, storage, network and virtualization components together as a single system and multiple systems as a single pool of resources. Functions include health, RCM compliance and security compliance management.
Simplify Scale – VCE Vscale™ Architecture enables scale-up and scale-out data centers by combining a modular grow-as-needed architectural design with the flexibility to add resources incrementally through VCE™ Technology Extensions. Through the VCE™ Fabric, a scalable spine-leaf network fabric, you can connect multiple systems and modular components to create a shared pool of resources. With VCE Vision Intelligent Operations software, you can extend visibility into the entire data center and all of its components.
Single-call Support – VCE delivers fully integrated, 24/7 support with a single phone call. There's never any finger-pointing between vendors, and you can always rely on our fully cross-trained team for a fast resolution to any problem.
Critical Data Protection – For reliable backup and recovery, your VCE System is built with data protection optimized for your specific needs. VCE offers the most advanced data de-duplication, replication, and storage federation technologies for achieving your Recover Point Objective (RPO) and Recover Time Objective (RTO) requirements.
Security and Compliance – Vblock Systems and VxBlock Systems are engineered to ensure the highest levels of security and are built to simplify complicated compliance requirements. All components and software are tested and validated to eliminate security vulnerabilities and to enhance performance and integrity. In addition, VCE Vision Intelligent Operations software automates the inspection and other time-consuming aspects of system security and software compliance policy, greatly reducing the time needed to pinpoint and eliminate security vulnerabilities.