VMAX 850

All Flash Meets Mission-Critical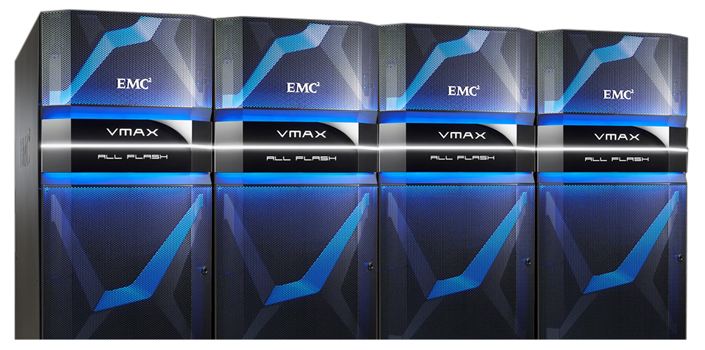 Sorry, this product is no longer available, Please contact us for a replacement.
Overview:
All flash arrays are accelerating the pace of business transformation as IT professionals search for the most relevant technologies to modernize their operation and drive down operational and capital expenditures. As flash prices rapidly decline, capacity points exceed spinning disk, and data reduction techniques advance more organizations are evaluating, testing, and deploying all-flash solutions to tackle the most demanding mixed workloads that span across the modern data center.
The new EMC VMAX All Flash arrays are architected to solve the CIO challenge of embracing a modernized flash-centric data center and hybrid cloud while simultaneously simplifying, automating and consolidating IT operations. VMAX All Flash isn't just bigger, better and faster – which it is – it was engineered for the latest, high density flash technology, but also to specifically exploit the rich set of data services of VMAX All Flash. These data services address the new requirements of the modern data center while continuing to deliver the reliability and availability EMC customers have relied on for years.
Easy
Easily configure, deploy and manage VMAX All Flash through appliance packaging that pre-configures all hardware and software elements
1-click simplified provisioning for open systems, mainframe, IBM i, block and file environments
Easily monitor and track up to 200 VMAX All Flash arrays in your data center from a single screen with Unisphere 360
Scalable
Leverage advanced multi-core / multi-threading algorithms and a flash-optimized design to meet strict SLAs for high-demand online transaction processing (OLTP), virtualized applications, and high growth Oracle and SQL databases
Scale out performance and scale up capacity to achieve cloud scale with predictable performance of <.5ms response times
Trusted
Always-on availability architecture with advanced fault isolation, robust data integrity checking, and proven non-disruptive hardware and software upgrades
Six-nines availability for 24x7xForever operations using SRDF® software, the gold standard for multi-site remote replication
EMC VMAX 850 is our most powerful all-flash storage array, scaling up to 4 PB of usable capacity. It provides mission-critical primary storage for open systems, mainframe, IBM i, and block and file environments.
All EMC Store VMAX 850 systems include the 850F software package:
HYPERMAX OS and storage hypervisor
Embedded management software (Unisphere, Solutions Enabler, SMI-S)
Support for virtual provisioning with VMware Virtual Volumes (VVols)
Local replication software: TimeFinder SnapVX
Application data protection management: AppSync
QOS: Host IO Limits
Thin provisioning
Installation services
Look to EMC VMAX 850 when you need primary storage for mission-critical and cloud-scale demands in the modern data center. Designed as an all-flash array, VMAX 850 brings you the performance, scale, always-on availability, and advanced data services you expect from VMAX storage. You'll have the power to handle the most mission-critical applications and high-demand transactional workloads.
Maximize your flash density and minimize your storage footprint. The building blocks of EMC VMAX 850 storage arrays are V-Bricks, which include a VMAX engine and 53 TB usable capacity; Flash Capacity Packs that let you add usable capacity in 13 TB modules. Capacity and IOPS scale linearly as you grow.
The VMAX 850 FX package includes additional software for the most attractive cost of ownership:
Everything in the VMAX 850F package
Remote replication and data mobility: SRDF/S, SRDF/A, SRDF Metro*
Data encryption: D@RE*
Aggregate system management: Unisphere 360
eNAS for file support
Storage automation with ViPR Suite, which includes ViPR Controller and ViPR SRM
PowerPath for up to 75 hosts
Tiering to cloud storage with EMC CloudArray*
Essentials
Leverage advanced 3D NAND flash to consolidate high-demand transaction processing workloads
Achieve consistent <.5ms response times at massive scale for extremegrowth hybrid cloud environments
Process millions of IOPS at sub-1ms latency using up to 384 CPU cores and multi-threading technology
Accelerate time to deployment with streamlined appliance packaging
Protect vital open systems and mainframe information at six-nines availability via SRDF, the gold standard in remote replication
Create hundreds of snapshots for each workload to optimize decision support, application testing and business analytics with SnapVX
Deliver rapid backup and restore with EMC ProtectPoint; backup directly from VMAX All Flash to Data Domain, eliminate app server overhead
Automate data path management to meet aggressive service levels and ensure application availability with EMC PowerPath
Use EMC Unisphere to easily provision, manage, and monitor VMAX All Flash block and file storage
Leverage Unisphere 360 to track and monitor up to 200 VMAX All Flash arrays from a single screen
Embed file services and reduce deployment costs by up to 33%