ViPR Controller

Automate and Simplify Storage Management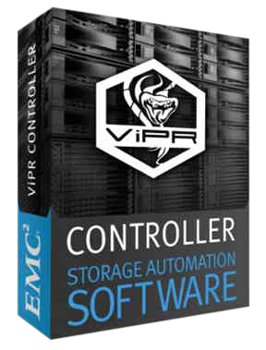 Sorry, this product is no longer available, Please contact us for a replacement.
Overview:
EMC ViPR Controller is storage automation software that centralizes and transforms multi-vendor storage into a simple and extensible platform. It abstracts and pools resources to deliver automated, policy-driven storage services on demand via a self-service catalog. With vendor-neutral centralized storage management, your team can reduce costs, provide choice and deliver a path to the cloud.
Works with EMC products: VMAX, VNX, VNXe3200, VPLEX, Isilon, RecoverPoint, ViPR SRM, XtremIO, ScaleIO, Data Domain, and VCE Vblock Systems
Integrates with third-party storage: Dell, Hitachi Data Systems (HDS), HP, IBM, NetApp, Oracle and SolidFire
Integrates with cloud stacks: OpenStack, VMware, Microsoft
The EMC ViPR Controller provides a single, automated way to provision and deliver storage resources.
Abstracts physical storage resources from heterogeneous arrays into a single virtual pool
Automates provisioning through policy-based Virtual Storage Pools
Delivers "click-and-go" self-service access to storage
Redefine Storage
Mobile, Cloud, Big Data and Social are driving unprecedented data growth as evident in the massive rise of storage consumption around the world. While data growth presents new opportunities, cost effectively controlling, managing and accessing it presents a host of new challenges. Current storage infrastructures require the efficiencies of automation and management insight to keep pace with today's always on dynamic businesses.
Most organizations have storage infrastructure comprised of different array types, often from different vendors, to deliver a wide variety of storage services. Each storage platform is chosen based on its ability to handle specific workloads, each with its own unique set of APIs, management and monitoring tools. With this diversity comes the challenge of managing these storage silos efficiently. As the amount of data grows, it takes an increasingly large number of specialized IT administrators executing repetitive, manual tasks to deliver and optimize storage services in order to stay competitive. Businesses need to redefine and transform how they deliver storage to meet service levels and control costs. Business as usual is not a sustainable option.
EMC ViPR Controller
EMC® ViPR® Controller lets you automate provisioning of storage services, reducing manual tasks up to 63%* and improves operational efficiency. You can deliver storage-as-a-service to consumers, minimizing dependencies on your IT team. ViPR Controller is storage automation software based on the open source development project CoprHD. It centralizes and transforms storage into a simple and extensible platform by abstracting and pooling resources to deliver automated, policy-driven storage services on-demand via a self-service catalog. With vendor neutral centralized storage management, your team can reduce storage provisioning costs by up to 73%**, provide choice and deliver a path to the cloud through storage-as-a-service.
Simple Centralized Automated Management
Storage Management Automation
ViPR Controller delivers repeatable, built-in best practices and intelligent processes to automate storage provisioning and reclamation tasks. ViPR Controller makes it as easy to consume enterprise storage as it is to consume public cloud storage services. It reduces storage provisioning tasks from weeks/days to mere minutes, freeing administrators from manual tasks and minimizing risk.
Automated Converged Infrastructure Provisioning
Reducing the time needed to deliver a VCE Vblock System infrastructure in support of a new service or respond to additional resource needs has become a necessity in IT. Without business agility, you may fall behind on new business opportunities, impacting company image and limiting your revenue growth. Automate the cluster provisioning lifecycle to efficiently and rapidly respond to IT requests. Simplify the management of VCE Vblock System infrastructure services and transform your IT department into a more efficient organization with ViPR Controller.
Storage-as-a-service
Simplify how IT consumers request and receive storage resources via a policydriven, self-service catalog – on-demand. Users can easily subscribe – in 5 simple steps* - to storage resources that meet their workload demands. Users are not required to know or care about the underlying hardware and software that is providing the storage to their application. Based on policies pre-defined by storage experts, ViPR Controller automatically provisions the right hardware and software to meet their needs. Storage resources are instantly made available, minimizing userIT interactions, freeing up SME's to focus on higher priority projects.
Centralized Management View
ViPR Controller includes reporting capabilities to gain visibility into managed resources and identifies available capacity within physical arrays that can be brought under management.
ViPR SRM provides increased visibility and control of multi-vendor traditional and software-defined data centers. With ViPR SRM you can:
Track capacity consumption across the entire storage environment
Monitor and report on performance trends from host to storage
View the physical resources and relationship dependencies
Streamline chargeback reporting by Service Levels
Reporting for ViPR Controller and ViPR SRM share a common console to centralize management and provide end-to-end analysis across multi-vendor storage environments. Take action on ViPR SRM insights with ViPR Controller to optimize resources for improved utilization and cost savings.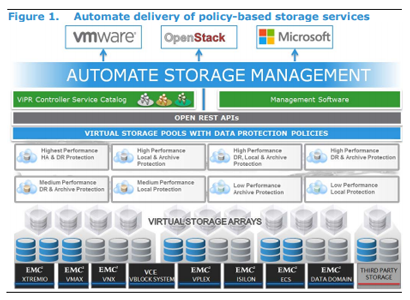 Extensible Multivendor Support
ViPR Controller is an extensible storage architecture, offering enterprises and service providers greater flexibility to choose from a variety of platforms - EMC, 3rd-party and cloud stacks - to meet the specific requirements of their business. Supported storage platforms and environments include:
EMC Storage: Data Domain®, ECS, Isilon®, ScaleIO, VMAX®, VNX®, VNXe3200, XtremIO®
Converged Infrastructure: VCE® Vblock Systems
3rd Party Storage: HDS, NetApp, HP, IBM, Dell, LeftHand, Oracle, SolidFire
Data Protection Technologies: Hitachi snaps, IBM snaps, RecoverPoint®, SRDF®, VPLEX®
Cloud Stacks: Microsoft, OpenStack, VMware
ViPR Controller creates a unified storage platform that appears as logical storage pool accessible by an open, REST-based API that allows you to:
Integrate with IT service management solutions
Integrate with VMware through the ViPR Plug-In for vRealize Orchestrator and the ViPR Management Pack for vRealize Operations allowing supported storage to be managed and provisioned by VMware
Deliver a path to the cloud while keeping your most valuable assets under your control
Open Source Community Development
ViPR Controller development is driven by the open source community via project CoprHD located at CoprHD.GitHub.io. This type of development model encourages community collaboration for expanding the breadth and depth of features and functionality including support for non-EMC storage arrays and data protection technologies. It also strengthens ViPR Controller as a single, vendor-neutral control point for software-defined storage automation.
Increase The Value Of Your Storage
With ViPR Controller, your organization is no longer bound by physical storage limitations. You can redefine and transform your existing storage infrastructure into a simple and extensible platform that can deliver fully automated storage to users and applications.
Take The Next Step
Try ViPR Controller At No Charge
ViPR Controller is available as a no-charge software download for non-production use. For support, customers can join the EMC ViPR Community to access documentation, user guides, FAQs, training and join ViPR community user discussions.