XtremIO All Flash Scale-Out Array

Storage Reinvented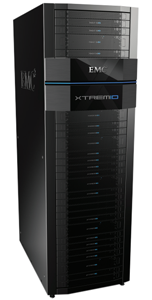 Sorry, this product is no longer available, Please contact us for a replacement.
Overview:
Your data center struggles with competing requirements from your lines of business and the finance, security and IT departments. While some executives want to lower cost and increase efficiency, others want business growth and responsiveness.
But today, most data center teams are just trying to keep up with application service levels, complex workflows, and sprawling infrastructure and support costs. These processes are anything but agile, often requiring:
Up to 10x the storage footprint to support a single application across its production and non-production lifecycles
Hours or days to generate analytics on what you need to know now
Long development and testing cycles where only partial data sets and user loads are used in order to contain costs
If this seems familiar to you, data storage is likely a bottleneck in your business. There's a solution. With XtremIO all- flash arrays (AFAs), you can have a dynamic data services platform.
What's an Agile data center?
One that moves as fast as your business.
In IT circles, agility is a common but elusive goal, especially when you are managing initiatives such as private/ hybrid cloud, Database-as-a-Service, VDI or broad consolidation for Oracle, SAP and Microsoft applications. To be agile in a complex environment, your storage must be able to:
Consolidate workloads to get the performance and scale to run everything on a single array with headroom for tomorrow's application demands.
Eliminate storage "sprawl" through advanced copy data management features, and deliver all-flash performance across entire workflows, not just for production.
Automate storage and application processes so you can quickly and easily create copies, map them to appropriate servers and refresh development and test instances at will – all instantly and without a hiccup in performance.
Only XtremIO offers these capabilities in an all-flash array. And with them comes a new world of possibilities that have never been attainable until now.
Storage Agility Benefits from XtremIO
Infrastructure
Linear scale-out performance – always consistent, sub-millisecond
Pooled storage and on-demand expansion
Mixed-workload consolidation across production/ non-production and workflow applications
Incredibly easy to use – nothing to configure or tune
Applications
Exceed the toughest SLAs for consolidated and growing workloads
Enable real-time analytics and agile dev/test
Self-service operations for infrastructure and application teams
Unparalleled array-based copy data management
Business
Data-center-driven business innovation
Up to 50% lower OPEX and CAPEX
2x longer storage product lifecycles
Bring all-flash, scale-out storage to your enterprise applications with EMC XtremIO. Purpose-built for flash, XtremIO storage arrays are amazingly fast. Delivering high IOPS at less than 1 millisecond latency is just the start. EMC XtremIO helps you harness the power of flash storage by building in innovations like content-based data placement and dual-stage metadata.
As a result, you'll have predictable and balanced performance, always-on data reduction, thin provisioning, data protection, writeable snapshots, encryption, and simple storage provisioning. Ideal for virtual desktop infrastructure (VDI), virtual server infrastructure, databases and analytics, and mixed workload consolidation.
Choose an EMC XtremIO system and scale out linearly by adding more XtremIO X-Bricks.
| System | Raw Capacity | Read/Write IOPS | Read IOPS |
| --- | --- | --- | --- |
| Starter X-Brick | 5 TB | 150K | 250K |
| 1 X-Brick | 10, 20, or 40 TB | 150K | 250K |
| 2 X-Brick Cluster | 20, 40, or 80 TB | 300K | 500K |
| 4 X-Brick Cluster | 40, 80, or 160 TB | 600K | 1M |
| 6 X-Brick Cluster | 120 or 240 TB | 900K | 1.5M |
| 8 X-Brick Cluster | 160 or 320 TB | 1.2M | 2M |