Dell EqualLogic Data Management Software

All-Inclusive Enterprise-Class Data Management
Dell EqualLogic delivers comprehensive end-to-end solutions to help you store and manage your data so you can efficiently move the right data - to the right place - at the right time - for the right cost. EqualLogic PS Series is inspired by its users with built-in advanced software features enabling high-end storage to organizations of all sizes with no additional licensing fees.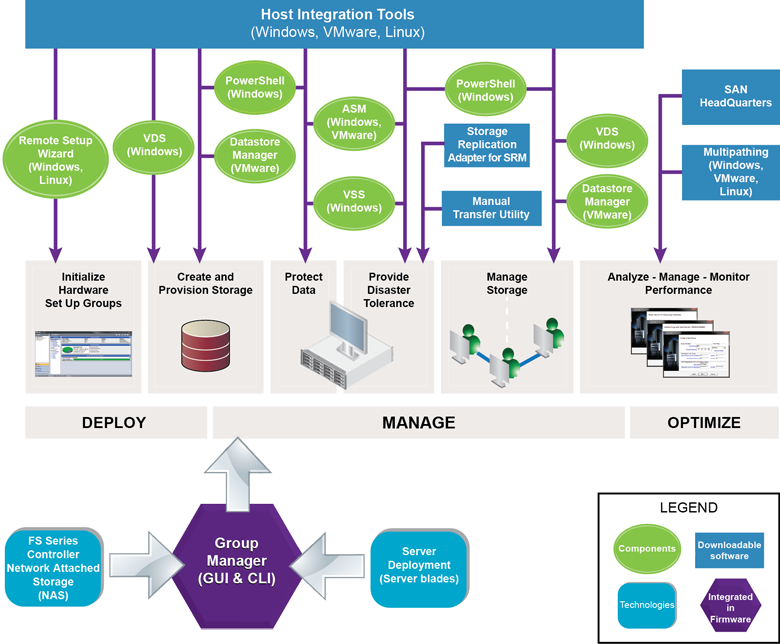 The EqualLogic product overview shows how each EqualLogic software module integrates
with the storage systems to enable capabilities for enterprise datacenters.
The EqualLogic advanced software features enables IT professionals to:
Virtualize storage environments easily
Protect business critical data
Optimize storage performance
Streamline storage management and operations
By using the advanced features in EqualLogic, IT departments can leverage existing investments and maximize the capabilities of PS Series. Let EqualLogic do the work for you, while still maintaining control of your storage environment.
Advanced Software includes:

Including EqualLogic Firmware, EqualLogic Group Manager and EqualLogic Manual Transfer Utility provides you with advanced SAN functions that automatically virtualizes and optimizes storage resources and provides advanced data protection and SAN management.

Virtualizes SAN resources
Enables peer scalability of up to 16 arrays
Provides intelligent data management functionality
Automatically adjusts system resources
Optimizes performance
Reduces human intervention

A full-featured monitoring and analysis tool for EqualLogic PS storage arrays, helps strengthen your ability to analyze and optimize storage performance and resource allocation.

Multi-site support
Group Diagnostics report
RAID Evaluator
Normalized view reporting
Live View
Support for EqualLogic Firmware v5.1 features including Audit logs and DCB Configuration

Dell EqualLogic Host Integration Tools enable efficient data protection and simplify management and operation of the EqualLogic SAN through tight integration with Microsoft, VMware and Linux host operating platforms and host applications. These tools reduce the time spent on storage management while increasing the reliability and performance of the environment.

Comprehensive data protection and availability
Integrated storage management
Reliable performance
Streamlined array configuration