Dell PowerVault NX3500 Unified Storage Solution

Adds a Unified Storage Solution for PowerVault MD iSCSI storage systems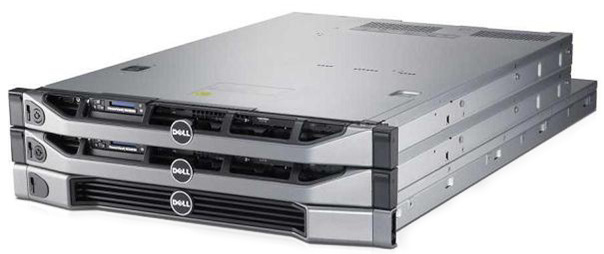 Sorry, this product is no longer available, Please contact usfor a replacement.
Overview:
You can consolidate block and file data affordably with the Dell PowerVault™ NX3500. By expanding the PowerVault MD platform to include NAS capability, the PowerVault NX3500 lets you cut complexity, manage your data more easily, and expand capacity as needed.
The PowerVault™ NX3500 utilizes Dell Fluid File System and the MD back end for Internet SCSI (iSCSI), Common Internet File System (CIFS) and Network File System (NFS) access to block and file data, enabling a single file share to scale up to the capacity of the MD deployment, currently 389TB of usable capacity.

Powerful: Consolidate block and file data with high-availability unified storage
Flexible: Easily add or modify iSCSI-, NFS- and CIFS-based storage as needs grow
Secure: Built-in data protection features like snapshots and replication help provide security and data integrity
Certified VMware compatibility: Tested and certified to be compatible with VMware ESX release 5.0, 4.1 and 4.0
The answer is unified storage
Take control of that avalanche of unstructured file data from file intensive user shares, rich content and virtual environments. PowerVault™ NX3500 can help provide unified storage with scale-up NAS for PowerVault MD iSCSI arrays.
Take charge of your file data.
Deploy versatile unified storage by integrating high-performance NAS with MD32x0i and MD36x0i iSCSI arrays and MD12x0 expansion enclosures. The PowerVault NX3500 with Dell Fluid File System is designed to help optimize file-access performance and hardware utilization while helping eliminate capacity and file-share size constraints.
A single file share can scale up to 389TB.
The system supports up to 192 SAS, NL SAS and SSD drives.
The comprehensive and intuitive NAS Manager helps reduce the time needed to create and manage multiple volumes and shares.
A wizard-based installation tool automates the initial setup and configuration process.
The NX3500 can be a flexible and practical alternative to Windows® file servers. Dell Fluid File System is a high-performance, highly optimized file system that helps you save time and IT resources.
Pay as you grow.
Scale easily with a system designed for smaller deployments that have increasing iSCSI-, NFS- and CIFS-based data storage needs. With PowerVault™ NX3500, you can help prevent the data silos and server sprawl often created by the increasing amount of file data (email, video, MP3 user home directories).
You can start small and still enjoy the value of high performance unified storage. And as your storage needs grow, you can dynamically add or modify block and file capacity as needed without disrupting existing applications and storage systems.
Built-in data protection
Easily protect your file data with PowerVault NX3500. Features such as snapshots, replication and backup support, safeguard file shares and are included in the base price.
File snapshots
Easily manage efficient snapshot capabilities for file data.
Data replication
Implement easy-to-use asynchronous data replication for fast and accurate disaster recovery.
User-restorable snapshots
Restore previous versions of files directly from a snapshot directory without contacting IT personnel.
NDMP backup
Easily integrate your NX3500 system into network backup environments with Network Data Management Protocol (NDMP) standard backup support.
Pricing Notes:
Pricing and product availability subject to change without notice.