Dell Compellent Network Storage Hardware

Modular, Scalable Hardware Platform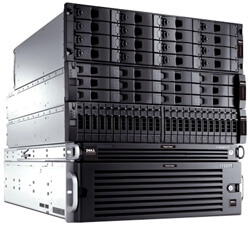 The Dell Compellent™ Storage Center combines a powerful data movement engine, virtualized software applications and an agile, hardware platform to redefine efficiency, productivity and protection in a truly scalable enterprise storage solution.
Using revolutionary Fluid Data™ storage technology, Compellent can help slash the time and cost of managing storage up to 80%, now and in the future, while dramatically simplifying the management of your IT infrastructure. Your data is automatically placed on the right storage tier by a sophisticated data movement engine based on actual usage. By moving inactive data to lower cost, high capacity drives, your business can buy fewer high-performance drives, take advantage of more lower-tiered storage, and save money on cooling, power and space.
Compellent supports data access from virtually all applications, ensuring your employees have the data they need to drive business today and tomorrow. Data access is supported via multiprotocol interfaces which provide Fibre Channel, iSCSI, FCoE, and file access.
Business continuity is safeguarded through near-instant, any-point-in-time recovery. Compellent protects your data through integrated snapshots, synchronous replication, and data migration. Built from the ground up to manage data differently, Dell Compellent storage provides a fully virtualized storage platform and a flexible storage foundation for both enterprise and cloud-computing environments.
Compellent Fluid Data Storage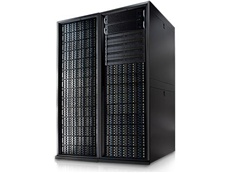 Compellent Storage Center SAN is an all-in-one storage array that allows organizations to actively manage data at a highly granular level using built-in intelligence and automation.
Automate and manage your entire infrastructure.
Protect your data against downtime and disaster.
Experience best-in-class enterprise support with immediate response.
Dynamically scales to meet business requirements. Start with any size Storage Center array and expand over time—from 2TB to nearly 2PB, without downtime or disruption
Supports an intermix of SSD, FC, SAS and SATA drive technologies as well as iSCSI, FCoE, and FC front-end interconnects—all in the same system at the same time
Supports a unified storage solution for both structured and unstructured data
Provides Thin Provisioning and Automated Tiered Storage to deliver optimum disk utilization and intelligent data movement
Delivers Space-Efficient Snapshots and Thin Replication for continuous data protection without wasted capacity
Provides built-in automation and unified storage management to streamline storage provisioning, management, migration, monitoring and reporting
Compellent Hardware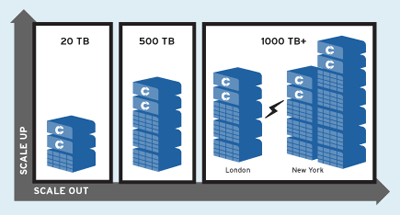 Unlike network storage systems that require organizations to rip and replace hardware as business needs change, Dell Compellent enterprise storage uses standards-based hardware and supports new technologies on a single, modular storage platform. Administrators can mix the latest SSD, FC and SAS drives and enclosures in the same system, as well as utilize a range of front-end interconnects, including 8 Gb Fibre Channel, 10 Gb iSCSI and Fibre Channel over Ethernet (FCoE). Fully redundant hardware components and advanced failover features ensure no single point of failure for high data availability. Users can scale up and out on demand, changing network hardware configurations as needed to take advantage of emerging technologies and accommodate constant change.
Compellent Network Storage Hardware

A Storage Center SAN built with an SC8000 controller is an all-in-one storage array that allows organizations to actively manage data at a highly granular level using built-in intelligence and automation with Storage Center array software.

Simultaneous iSCSI, Fibre Channel (FC) and Fibre Channel over Ethernet (FCoE) front-end interconnects
Controls SAS and FC drive enclosures, including those with write-intensive SLC and read-intensive MLC SSDs
Scales up to 960 SAS drives in multiple enclosures per dual-controller system and scales-out to many systems across numerous sites, monitored by a single console
Seamlessly integrates with the FS8600 NAS appliance for fully interoperable block and file storage solutions

Allows organizations to select single- or dual-controller configurations with a combination of industry-standard front- and back-end interconnects to meet cost, performance and availability requirements.

Persistent hardware architecture for no forklift upgrades
Upgrade and add technology over time on same platform
Standards-based hardware helps to avoid technology lock-in
Connect servers and disks with ease via PCI cards
Controller clustering for high availability
Shared-nothing approach for no single point of failure
High-speed mirrored, write-back cache to prevent data loss

Feature the latest industry-standard technology, including 6Gb SAS interconnects, so organizations can scale up and out with ease.

Store your data on 3.5" or 2.5" drives
Scale on a single, modular hardware platform
Administrators can mix SSD, Fibre Channel, SAS and NLSAS drives in the same system

Enable you to consolidate file- and block-based data onto a single unified platform designed for efficiency and scalability.

Cut costs and increase capability with a unified platform for file- and block-based data
Take advantage of the highly scalable and highly resilient Zettabyte File System (ZFS)
Create space-efficient snapshots at the file level while using Storage Center Replays for rollback of entire NAS volumes
Use a single, wizards-based interface to manage all storage across a mixed Unix, Linux and/or Windows OS environment
Increase availability, reliability and performance with active/active clustering and advanced multipathing

Customers with data growth needing high-performance file sharing with flexibility to handle block data.

Six 3.5" SATA, SAS and NL-SAS drives
Advanced software for more efficient data sharing
No time wasted to set up or manage
Integration that adapts to your environment
Integrated or gateway deployment
Easy to deploy high availability solution

Organizations can combine SSD, Fibre Channel, SAS and NLSAS drives in the same system.

Scale from 2TB to nearly 2 PB on a single system
Expand or migrate storage online without disruption